Discover more from All Cops Are Posters
Weekly-ish roundups of the Thin Blue Online
Friends and neighbors, things aren't exactly good—but they are a little silly and a lot chaotic, which is better than nothing. Here's a deep fried cop meme. Let us
PRAY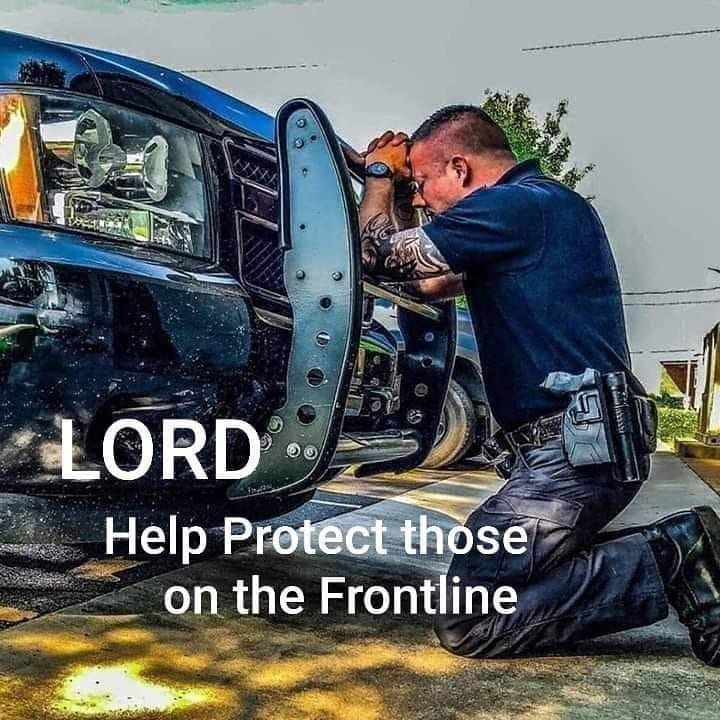 This week, we're gonna watch a woman pay a high voltage price for watching a high school football game, thanks to a school resource officer with a stun gun, and check out daily updates from a detective who loves stock photos. Up top: There's going to be footage of cops using force in the video I'm linking to. If that makes you uncomfortable, I'd skip pressing play.
Tasered! At the Football Game
I (because I am notably not a law enforcement officer) am all for wearing a face mask mid-pandemic. Do I think, however, people who don't comply with mask mandates should, say, experience thousands of volts of electricity coursing through their body as a consequence? No... obviously not. Apparently, this school resource officer disagrees!
Footage captured by fellow high school football spectators in Logan, Ohio, and posted to YouTube and Facebook shows a parent supporting the away team (Marietta, Ohio) getting apprehended and eventually Tasered by a school resource officer. In the span of less than four minutes, the cop, who is reportedly a Logan Police Department officer, makes a scene, deploys his "non-lethal" weapon, and eventually calls for backup—backup that arrives in the form of a bare-faced cop.
"You don't even have your mask on, and I'm getting arrested!" the woman protests as she's being led away in handcuffs. No COVID denialism, but I've gotta ask: Is she wrong? (And I have to answer: No, she's not.)
Eyewitness Testimony
I saw it on the internet, so it must be true! Since February 2018, a Richmond, California police captain has been carefully tracking—and posting—the criminal goings-on in his area to his public Facebook page. Armed with a serious stock photo arsenal, a flair for the dramatic, and (I'm speculating here) the bone-deep conviction that Batman would love him if they ever met, one man is taking on the mean streets of "America's largest city with a Green Party mayor." One of those posts, a harrowing account of a run-in with… an art group?… made its way to Twitter this week:
This man's decision to bypass the media and broadcast his little missives directly to the public speaks to sharp instincts—media could potentially bring some kind of unwanted scrutiny or oversight into the equation. (Of course, there's always the strong possibility that the media will mindlessly parrot anything a cop says, but why roll the dice?)
By speaking directly to a select audience of Facebook friends and followers, Captain Walle is able to convey his message and illustrate the cop mindset in lurid detail. Because crime never stops in Richmond, Walle and the cops he works with never have a second of rest. They are always on, always vigilant, guarding the Thin Blue Line between civilians and looming threats of shoplifters, or homeless people, or friends who want to be weird under a bridge together. And because Walle and his fellow cops are never truly off duty, he can never truly stop posting.
Here are a few recent highlights and why I love them.
I like this post because it really displays the premium Getty subscription this guy must be shelling out for. I also like it because nothing… really… happened here? Someone saw a gun at work, which is definitely not awesome, but it totally feel like a "crime" necessarily went down?

In a comment, someone asked, "Did you catch the guy?" and Walle responded: "Not yet."
Blocked and Reported
This week, in cops getting in trouble for Posting…
Questions, comments, corrections? ("You don't know what it's like to be a police officer" is not a correction.) Shoot me an email at k80way@protonmail.com, or DM me on Twitter.