Discover more from All Cops Are Posters
Weekly-ish roundups of the Thin Blue Online
"Kobe!"
Chicks dig carnage, plus a child trafficking "Choose Your Own Adventure..."
First thing's first: Rest in Power to Breonna Taylor, and fuck the LMPD.
It's been a fucking terrible week online. Please, if you can, enjoy a TikTok where a cop lip-syncs to a scene from Shrek (2001).
Okay, let's get at it. This time, we're talking about cops using crime scene photos for clout and child trafficking mania.
---
"The deputies took these photos for their own personal gratification."
Back in February, a bartender in the Los Angeles suburb of Norwalk, California blew the whistle on LA Sheriff's Department deputies who had snapped photos at the scene of Kobe Bryant's helicopter crash that included the dead bodies of Bryant and his 13-year-old daughter, Gianna. Now, Vanessa Bryant, Kobe's widow and Gigi's mom, is suing the LASD for severe emotional distress according to TMZ. Per the lawsuit, eight different officers shot their own, unofficial footage at the crash site.
But, how did a bartender come across this information? According to the lawsuit, it's because he overheard a LASD deputy showing the pictures to a woman he was trying to impress. Luckily, the LASD disciplined the photo-takers as soon as they found out. Just kidding! The department actually already knew about the photos of a dead child circulating among its officers, and told everyone involved three weeks earlier that if they just deleted the photos, it wouldn't be a problem. I hope Vanessa bleeds them dry!
"Every police department struggles with the same thing, where people take photos and they're not evidence," LA Sheriff Alex Villanueva told the Los Angeles Times. Probably true. But law enforcement officers in LA seem to "struggle" especially hard not to take these photos and share them, both among each other and on—you guessed it—social media.
In 2011, LAPD detective Sal LaBarbera was criticized online for posting a picture of a bloody crime scene on Twitter, under the handle @LAMurderCop. He later tried to claim the blanket covering the body actually just had a pattern that looks exactly like dried blood. LaBarbera, since retired, was suspended from Twitter after the post… on that account. You can find him here now, and he's verified.
In 2013, spree killer and former LAPD officer Chris Dorner accused his fellow officers of the same behavior in a Facebook missive, later collected and annotated by Research and Destroy. "[LAPD officers] take photos of your loved ones recently deceased bodies with their cellphones and play a game of who has the most graphic dead body of the night with officers from other divisions," Dorner wrote. "This isn't just the 20 something year old officers, this is the 50 year old officers with significant time on the job as well who participate."
LaBarbera, as Research and Destroy noted, had already spent 25 years with the LAPD when he tweeted his crime scene snapshot.
American Female, Age 8, ID #R8000
Behold, a Facebook post—surfaced by Twitter user @jokastrength—ripped from the QAnon playbook and digitally rubber-stamped by the Youngsville Police Department of Youngsville, Louisiana.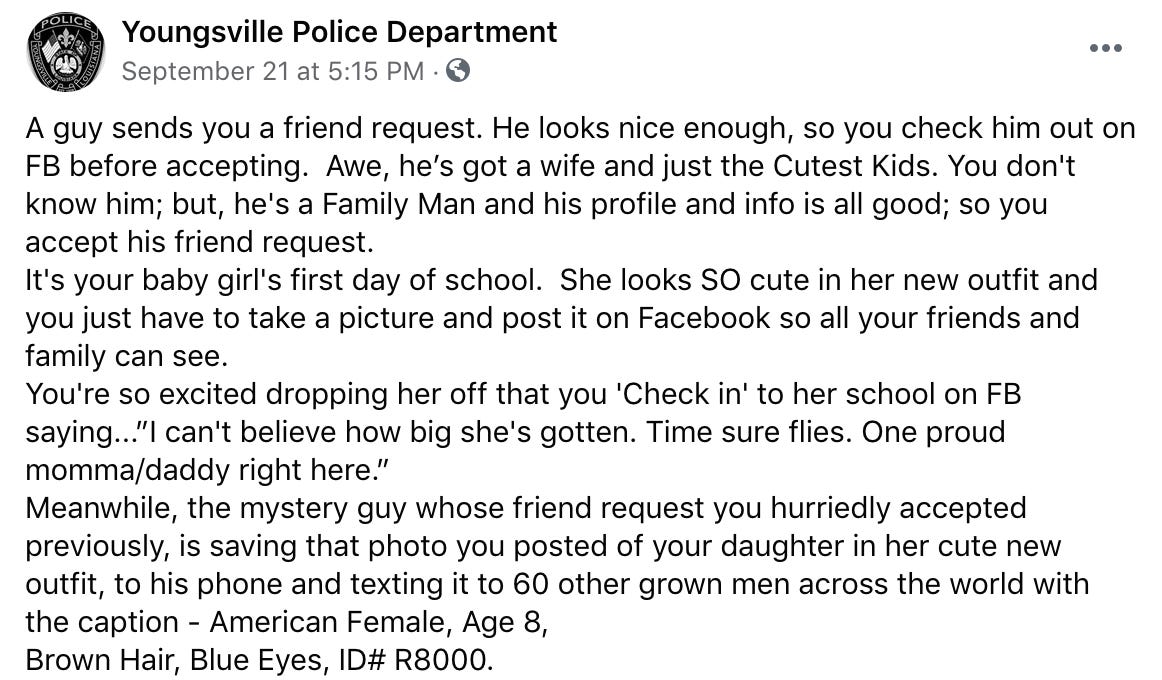 So… It is hard to overstate how much the scenario it outlines in lurid detail, in which a 6-year-old gets kidnapped and trafficked because her parent accepted a Facebook friend request, has truly, truly, t r u l y never happened. But wouldn't Youngsville PD like you to think it has happened? Or, at least, that it could?
I don't know what's in the heart of the person who runs this Facebook page—they may believe they're alerting their followers to a genuine threat. This is the exact brand of delusion we watch cops fall for over and over again, in line with rumors about concrete milkshakes and false flag "BLACKS RULE"-esque graffiti. That's actually the most generous interpretation—that the police are actually stupid enough to fall for all these hoaxes. It's also very possible to conclude that they're blatantly lying for their own gain.
By stoking fear and adding an official, respectable veneer to an obvious lie, police shore up their own power over the average person. If there are really pedophiles out there, taking the time to friend everyone who posts about their kid on Facebook in order to sell them to "Asia," (???) then it follows that we live in a horrifying world and we need the police to keep us safe. In fact, they're already doing so by alerting us of the fact that we're in danger in the first place.
For more information on the way human trafficking actually works, check out either episode of You're Wrong About… (the only* good podcast) on the subject, and/or this story from its cohost Michael Hobbes on how social media is ideal for spreading this particular "genre" of misinformation.
Blocked and Reported
This week, in cops getting fired for Posting…
On September 15, Le Mars, Iowa cop, real name Jeremy Singer, was fired after an investigation into his "concerning" social media posts. Bye, Jer!

In Millersville, Tennessee, police officer Bobby Black was apparently fired on Sept. 11… for promoting a protest that happened on Thursday, September 17… over an incident from back in 2014, in which current Millersville Police Chief Mark Palmer "allegedly" placed a KKK newsletter into the mailbox of a Black cop with a handwritten note that said: "DON'T LET YOUR SUBSCRIPTION RUN OUT." Deeply weird—let's watch this space.

On Friday the 18th, 911 supervisor Rhonda Moore of Roswell, Georgia was fired following a demotion in June, after she posted a… meme? infographic? both feel wrong… to her Facebook page comparing the Confederate flag to symbols including the NAACP wordmark and a logo for something called the "Hispanic Scholarship Fund," with the caption: "If this symbol represents racism in America, SO DO THESE." The colleagues who reported Moore, two Black women, described her as a "great person" whose posts on her Facebook feed were "not like anything they thought Moore would ever support or believe in." :-/

Also on the 18th, custodian Darren Barnes of the North Providence Police Department in North Providence, Rhode Island, was fired after screenshots of a slur-laden Facebook message were circulated on social media. Way to steal fired cop valor, Darren…

On Tuesday, police dispatcher Susan Sharpnack of Vermillion, South Dakota was suspended for two days after she was found posting TikToks of herself crying while at work. Relatable!
Questions, comments, corrections? ("You don't know what it's like to be a police officer" is not a correction.) Shoot me an email at k80way@protonmail.com, or DM me on Twitter.